Jnck White Ruby Cookie, Flow Wrapped
Award-winning Ruby Chocolate Cookie packed with protein and fibre, and 90% less sugar than regular cookies. There's a new choc on the block and it's called Ruby. A unique tension of fresh berry fruitiness combines with white chocolate smoothness, making this tantalising delicacy an absolute gem.
7 days shelf life once defrosted!
Bake Temperature
Thaw & Serve
Ingredients:
Wheat Flour (Wheat Flour, Calcium Carbonate, Iron, Niacin, Thiamin), Bulking Agent (Polydextrose), Protein White Chocolate (17%) [Cocoa Butter, Whey Protein Isolate (Milk), Sweetener (Maltitol), Natural Vanilla Flavouring, Emulsifier (Sunflower Lecithin), Sweetener (Sucralose)], Rapeseed Oil, Wheat Gluten, Water, Pea Protein Isolate, Raising Agent (Sodium Bicarbonate), Emulsifier (Mono- and diglycerides of fatty acids), Flavouring, Colours (Carmine, Curcumin), Acidity Regulators (Citric Acid, Potassium Hydroxide), Salt, Natural Flavouring
Nutritional Information:
| Typical Values | Per 100g |
| --- | --- |
| Energy | 1579.5kj / 377.5kcal |
| Carbohydrates | 29g |
| of which Sugars | 2.5g |
| Fat | 21g |
| of which Saturates | 5g |
| Fibre | 19g |
| Protein | 17g |
| Salt | 0.17g |
Reference Intake:
Each 100g portion contains
Energy
1579.5kj / 377.5kcal
18.88%
Dietry Information:
Key: Suitable for
Allergy Information:
Key: Contains May contain
Cereal /Gluten
Milk
Eggs
Peanuts
Nuts
Crustaceans
Mustard
Fish
Lupin
Sesame
Celery
Soya
Molluscs
Sulphur Dioxide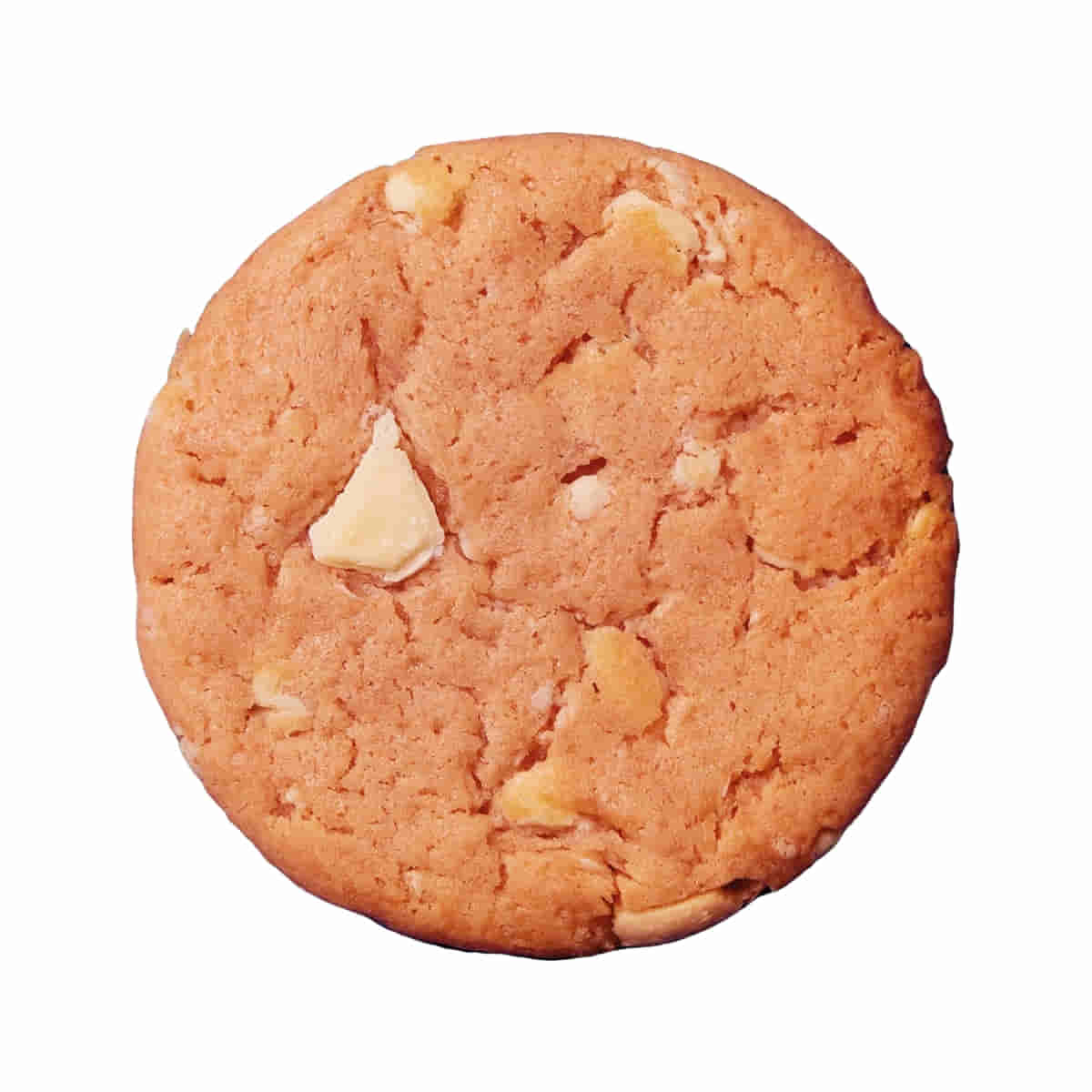 Jnck White Ruby Cookie, Flow Wrapped
SKU:JNCK02
---
Award-winning Ruby Chocolate Cookie packed with protein and fibre, and 90% less sugar than regular cookies. There's a new choc on the block and it's called Ruby. A unique tension of fresh berry fruitiness combines with white chocolate smoothness, making this tantalising delicacy an absolute gem.

7 days shelf life once defrosted!

| | |
| --- | --- |
| | Box Quantity24 x 48g |
| | Defrost Time60 |
| | Bake TemperatureThaw & Serve |
| | Bake TimeN/A |
Ingredients:Wheat Flour (Wheat Flour, Calcium Carbonate, Iron, Niacin, Thiamin), Bulking Agent (Polydextrose), Protein White Chocolate (17%) [Cocoa Butter, Whey Protein Isolate (Milk), Sweetener (Maltitol), Natural Vanilla Flavouring, Emulsifier (Sunflower Lecithin), Sweetener (Sucralose)], Rapeseed Oil, Wheat Gluten, Water, Pea Protein Isolate, Raising Agent (Sodium Bicarbonate), Emulsifier (Mono- and diglycerides of fatty acids), Flavouring, Colours (Carmine, Curcumin), Acidity Regulators (Citric Acid, Potassium Hydroxide), Salt, Natural Flavouring
Reference Intake:
Each 100g portion contains
Energy
1579.5kj / 377.5kcal
18.88%
Fat
21g
30%
Saturates
5g
25%
Sugars
2.5g
2.78%
Sugars
0.17g
2.83%
Nutritional Information:
| | |
| --- | --- |
| Energy | 1579.5kj / 377.5kcal |
| Carbohydrates | 29g |
| of which Sugars | 2.5g |
| Fat | 21g |
| of which Saturates | 5g |
| Fibre | 19g |
| Protein | 17g |
| Salt | 0.17g |
Dietry Information:
Key:⬤Suitable for
Vegetarian
Vegan
Kosher
Halal
Coeliac
Dietry Information:
Key:⬤Contains ⬤May contain
Cereal / Gluton

Milk

Eggs

Peanuts

Nuts

Crustaceans

Mustard

Fish

Lupin

Sesame

Celery

Soya

Molluscs

Sulphur Dioxide